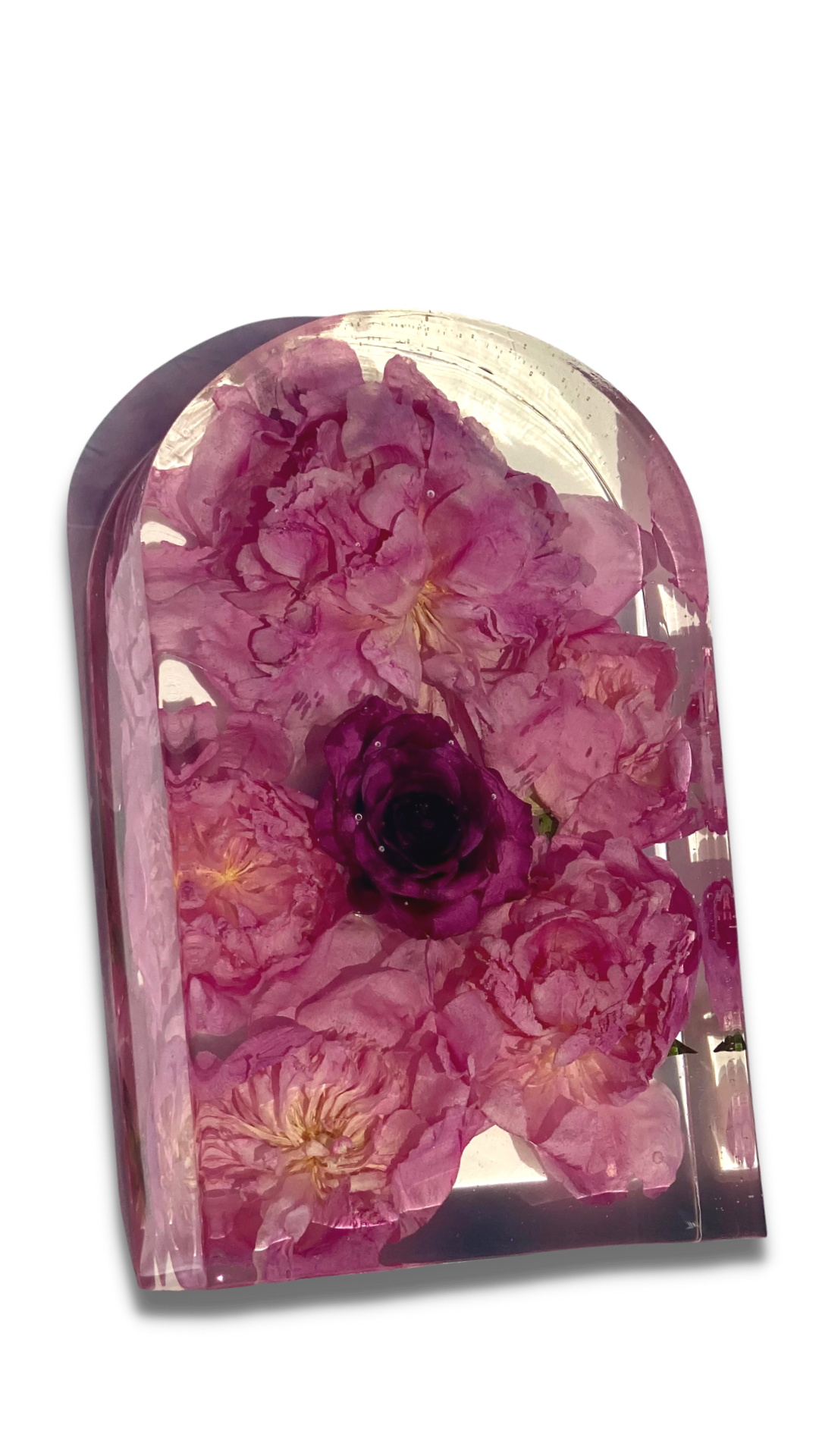 When should I make my reservation?
As soon as you have a date! I recommend making your reservation at least 6 months in advance of your event date.
Do I have to know what I want right now?
All I need to secure your booking is the retainer and a signed contract. The contract only commits you to my services, not specific products. You can add pieces to your order until we finalize your designs for your pieces, which is usually 6-8 weeks after your wedding.
How long will the process take?
Once I have received your flowers, the process can take up to 6 months to complete. This timeframe depends on many things, including the flower drying process, client communication during design, the amount of pieces being made, and the availability of the chosen molds at the time of approval.
Can we have other things placed in our pieces, such as lace, invitations, etc.?
Yes!! We can put anything that is not living or contains water into your piece. Some examples of things we have used in pieces before include, ribbons, invitations, feathers, photos. Other things that can also be incorporated are cake toppers, glass pieces, jewelry, other small Knick knacks and even fake flowers!
Do prices include shipping?
They do not. You will be responsible for shipping your flowers to New Milford, NJ. Shipping instructions will be sent at the time of booking and the week before your event. Return shipping is a flat $35 fee for all orders, regardless of size and destination. Local orders may drop off and pick up in person at no charge.
When is my final payment due?
Your final payment is not due until you finalize your designs for your pieces. This is usually 6-8 weeks after the wedding. This allows you to upgrade or add-on pieces up until that point without having to send multiple invoices.
Why is flower preservation so expensive?
Time and materials! Did you know that each order can take over 30 working hours to complete? The process of using resin to preserve flowers takes a lot of time and patience and cannot be rushed. I also use high quality molds and resins, made here in America to ensure the safety of the flowers and the longevity of the art I create.
Do I have to be the one to drop off my flowers, or can someone else drop them off for me?
No you do not have to be the one to drop off. I know a lot of couples leave for their honeymoon the next day so you are definitely welcome to assign this task to someone you trust!
How will my flowers look after the preservation process is complete?
Color variations will occur naturally. Pinks, reds and purples often darken while some colors lighten. White flowers may appear translucent in the final artworks. Bruises can also be common in flowers and will only show themselves after they have been placed in the resin. The best way to avoid this is to make sure you have chosen a florist who uses high quality flowers and to take extra good care of your flowers before they make it to me.
I use only high end, resin, which means few micro bubbles, and clear results. However, due to the nature of flowers having air pockets, some bubbles may occur. These bubbles can have a "water-bubble" like appearance that can be really pretty! Due to the nature of resin, over time it will take on a slight amber coloring.
Is there a minimum order requirement?
Due to the amount of time and resources required, all wedding bouquet preservations and recreations require the purchase of a memento. Memorial orders are not subject to the purchase requirements, however, if the order is less than the $150 retainer fee, then the entire amount is due at the time of booking.
Can I upgrade or downgrade my order after I've booked?
Yes, you may add on any pieces or upgrade your main piece sizes at any time prior to design approval. You may also downgrade your order as long as you still meet the minimum order requirements.
My wedding was years ago. Can you preserve my already dried bouquet?
Yes! I am happy to preserve your dried flowers! Please email me a photo of your dried florals so I may asses them to make sure they will preserve well. I will not be able to enhance their color, shape, or condition. I also offer a bouquet remake option; re-create your bouquet with fresh florals! Reach out to learn more about this process!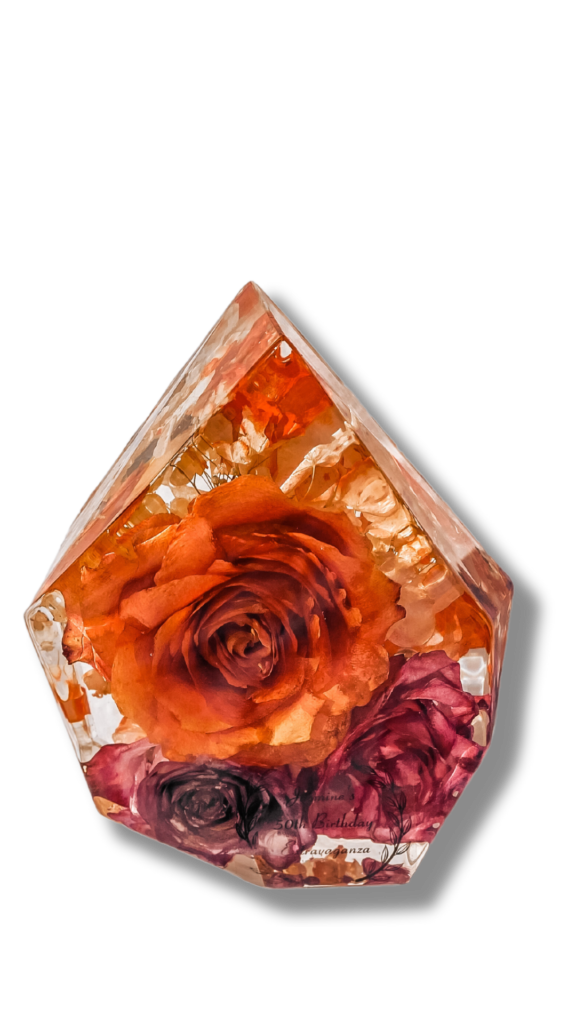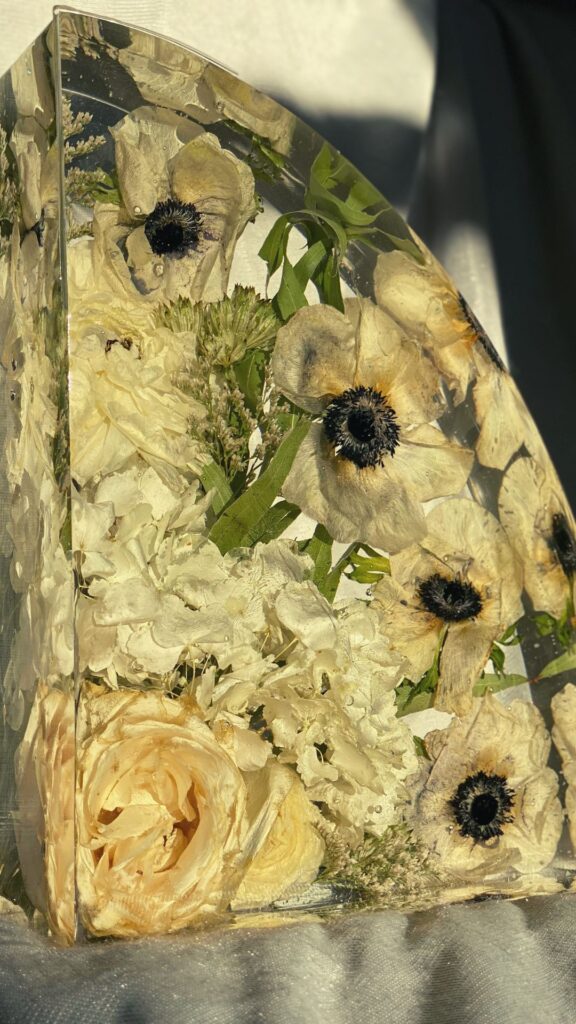 How Soon
Do you need the flowers?
The sooner I receive your flowers the better! Bouquets should be kept as cool as possible after the wedding, but not frozen. If you are shipping, you will be provided instructions on how to safely pack and ship your flowers upon booking.
Subscribe
Lets talk about your Wedding
Hours
M-F: 9am-7pm
Sat: 10am-6pm|Sun: 12pm-5pm